Tips and Tricks for Writing Effective Project Proposals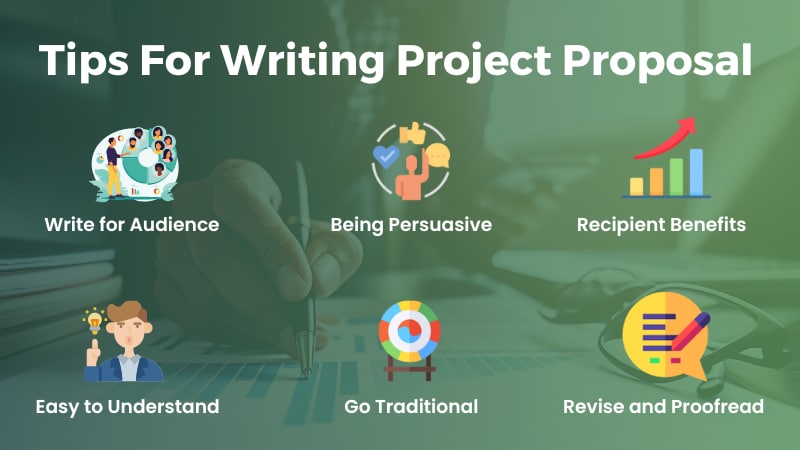 Project Proposals are the service providers' first step toward signing a new deal with their partners, clients or investors. That is why there must be no fault in composing one perfect proposal custom-made for each project.
Why Send a Project Proposal?
Project proposals are used for various purposes in the business and service sectors. These are proposals for projects to be signed and approved.
Secure Investment or Funding
Get New Clients
Get Existing Clients to Extend their Contract
To Convince an Employer about Project Resources
Who Sends Project Proposals?
There are different types of project proposals depending on their aim and usage. Project proposals, by nature, are generally sent out by service providers to their clients, investors and partners.
The tips and tricks listed below depending on who sends the proposal to whom since every project proposal is naturally custom-made for each recipient.
Tips For Writing Project Proposal
1. Write for the Audience
Writing is always successful when it is audience-centric but in the case of business proposals, it is more so. Project proposals are composed in a formal structure for a wide variety of audiences before they are sent out or presented in front of them.
Who is your audience?
These audiences decide the fate of a business deal happening or being canceled.
2. Being Persuasive
The point of a project proposal is proposing a deal the party on the other end would love to say "Yes" to. The language, propositions and proof of past services must be presented convincingly on paper.
Persuasive words and phrases -
Certainly…
Nevertheless…
I'm sure you see…
As per these metrics, you need…
Our assessment shows how your business will benefit from…
We strongly recommend a change in method…
Although it may seem otherwise…
3. Highlight the Recipient Benefits
The project proposal must be structured to highlight how your services or ideas can solve all your client's present and foreseeable problems so their business can grow as desired. The clients' issues should come first in the proposal.
| | |
| --- | --- |
| Clients' Issue | Business Solution |
| Lack of regular website traffic | Regular posts and updates |
| Minimum organic interaction | 24/7 Customer service |
| Payroll discrepancies | Custom-made HR management system |
| Bad ranked contents | Expert SEO services |
4. Easy to Understand
The topics, format and language should all be easy to understand and use. We do not want to make our clients inferior in any manner. Commonly used terms and expressions should be our go-to picks for business documents and proposals.
Things that ensure easy understanding -
5. Go Traditional
Out-of-the-box thinking and dynamic practices may be tempting to implement, but many people in business would prefer the formal and conventional approaches they are used to. Since you may lose a point or two for not being formal or traditional enough, it is always better to stay on the safe side with the proposal and follow through.
Perks of keeping things traditional -
Easy to understand for not-so-updated clients
No time is needed for brainstorming and format innovation
One fixed format can be used by one company for multiple audiences
6. Revise and Proofread
Revising, editing and proofreading are always integral to any official document composition process since grammatical mistakes and misspellings may symbolize insincerity. As for a project proposal, this should be revised, edited and proofread more than once just like any other formal documentation.
More than one set of eyes can help detect mistakes skipped by chance. Printing the proposal out to edit and proofread can help pick up things missed on the screen.