Writing Informal Business Emails at Work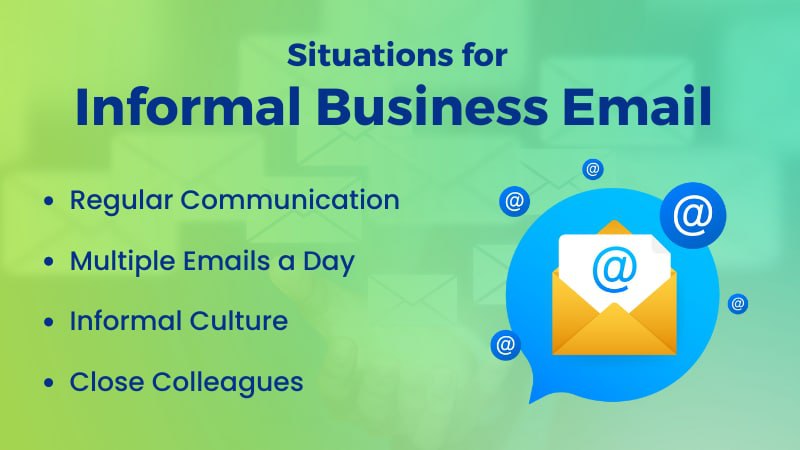 Business Emails are almost always written in strictly formal language but there are situations even in business enterprises and workplaces where informal words and statements are better suited.
Situations Fit for Informal Business Emails
There are settings and circumstances in and outside of workplaces where informal language use and email formats are necessary to raise efficiency. These situations are listed below with brief explanations -
Regular Communication
Informal business emails can easily be sent to someone who you are in contact with via emails on a regular basis. Regular communication automatically means that the relationship had the time to lean towards informality.
That often gives a license to the sender to be friendly in language and tone used even in business emails.
Multiple Emails a Day
In case of having to send multiple emails a day to the same person, switching to informal emails will save a lot of time and hassle. But of course, it has to be with someone who thinks of it the same way and doesn't get offended.
Informal Culture
In some cultures, being overtly friendly is the norm which is the polar opposite of Western office cultures. Connecting to them may be hindered by using too formal a language.
When writing to people from an informal culture, using informal language and tone can help connect with them at a deeper and more personal level.
Close Colleagues
Close colleagues are more like friends and nobody uses a formal language with friends. So emailing close colleagues for even business purposes can be dealt with in an informal manner and in most cases, that is better.
Elements in Informal Business Email
There are a few things to keep in mind when writing informal emails in business settings. It cannot be too informal most of the time but you can lose the formal gestures.
Not-So-Formal Vocabulary
The use of informal vocabulary makes the emails informal in essence. "Discussed with" can become "Spoke to" and the salutation can be a normal "Hello" instead of "Dear Mr./Ms/Mrs. Surname" to start the email.
| | |
| --- | --- |
| Formal | Informal |
| Tell | Express |
| Ask | Enquire |
| Check | Verify |
| Lucky | Fortunate |
| Speed up | Accelerate |
Informal Tone
The overall polite tone of language is what makes emails formal so, loosening up on that can give them an informal touch. Using not-so-formal greetings, please, sorry and other overtly polite expressions gives your business email an informal tone.
Colloquial Language
Colloquial language use can make any written document or letter seem less formal no matter the subject matter. The colloquial language of one region differs from another and that's why it's not deemed very formal. Since you send informal letters or emails to people very close to you, colloquial language is not a problem,
Contractions
Contractions are short forms of full-length phrases assembled with the help of an apostrophe used for efficiency in informal day-to-day conversations. These are used in daily conversations and informal emails have the same tone and vocabulary so the contractions are used as well.
| | |
| --- | --- |
| Main Phrase | Contraction |
| Cannot | Can't |
| I have | I've |
| We would | We'd |
| He will | He'll |
| They are | They're |
Acronym
Acronyms are made out of initial letters from every word in lengthy phrases. People use them in chats or instant messages. Using acronyms in informal business emails will save the time of the readers and writers while increasing efficiency.
| | |
| --- | --- |
| Acronym | Full-Form |
| TBH | To Be Honest |
| ASAP | As Soon As Possible |
| IDK | I Don't Know |
| IMO | In My Opinion |
| BTW | By The Way |
Abbreviations
Abbreviations are shortened form of individual words that are created with the help of a full stops. People use abbreviations in highly informal scenarios and people naturally use them while emailing and chatting with friends where formal language is not a must. The same goes for informal emails.
| | |
| --- | --- |
| Abbreviation | Full Form |
| approx. | Approximately |
| dept. | Department |
| misc. | Miscellaneous |
| temp. | Temperature/Temporary |
| asst. | Assistant |
Informal Business Email Body
While someone you can be informal with sends you an email to check up on progress, one may use the email body given below -
Hi,
What's up? I'll do it ASAP and send it to you. It may take me approx. 1 hour or so. That's not too late, is it?
See ya
(No footer)