Polite Ways to Disagree in Professional Business Emails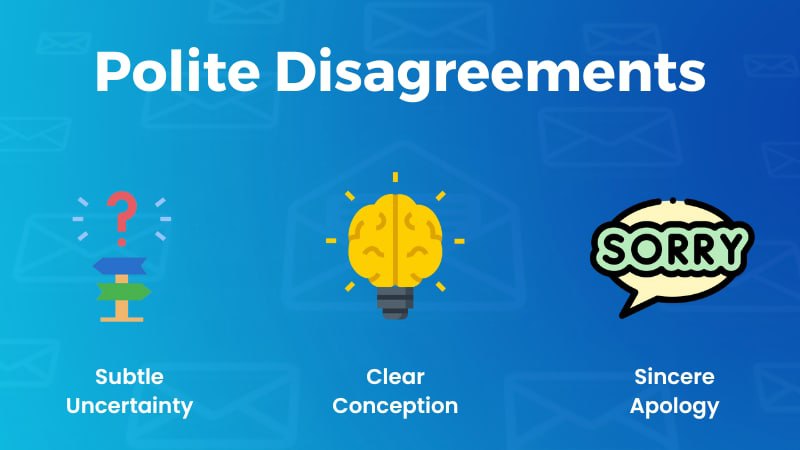 During discussions of decision-making via business emails, one needs to maintain sincerity, politeness and formality even when showing a disagreement. There are some English phrases fit for the occasion so let's have a look at them.
Phrases to Disagree Without Being Rude
There are a number of English phrases that can help express disagreement while having a polite and respectful undertone. A polite disagreement always includes these three things in the English Language or else, the statement becomes a little rude and offensive-
Clear Conception
It's a good idea to express that you have clearly understood what the email sender had meant before disagreeing. It conveys sincerity and competence. Some may work better with an additional phrase of apology. A few such phrases are listed below -
We see what you mean.
We respect your opinion.
This is a fair point.
We understand where you are coming from.
We cannot agree with you on that.
We respectfully disagree.
We have a completely different idealogy.
Subtle Uncertainty
Not being too certain and headfast about your opinion will enable a polite delivery. "Not sure I can say the same…" is always more polite than "I don't think so." So, there are a few phrases that help express that uncertainty in emails -
I can't be too sure…
I'm not too confident but…
I think…
I suppose…
I don't think we can agree 100%.
I'm not sure I agree with that.
Sincere Apology
Apologizing for having to disagree with the person at the other end of the email would be a nice gesture and no matter how you disagree after will offend them. There are a few ways one can apologise -
I'm sorry…
Sorry to say…
I'm afraid…
I have to apologise…
Pardon me but…
You'll have to excuse me…
Clever Use of the Conjunction "But"
We have to at least utilise two of the three contrasting elements above to construct the willy statements of polite disagreement. Using the conjunction "But" skillfully helps put these expressions forward smartly. A few examples are listed below -
I take your point but that isn't the way I see it.
I see what you're saying but I think…
I'm sorry but I have to disagree with you on…
I'm sorry but I can't agree to it.
True, that is a fair point, but I have to say I disagree…
I respect your point but my perspective differs…
I understand where you are coming from but…
Other Expressions of Polite Disagreement
Not always one has to follow the elements and particular sentence constructions as explained above. One can choose a different way to make use of the language and express their similarly polite disagreements -
I don't think you and I have the same opinion on this issue.
The example above may have a slight hint of uncertainty on the speaker's part without the use of "But," an apology or statement of conception is not included here.
I'm afraid I'll have to disagree.
The "I'm afraid" acts as some kind of an apology but the rest of the elements are not in here. "I'll have to" takes away the rude edge off of the blatant "I disagree."
Unfortunately, we have a completely different opinion on that.
"Unfortunately" makes the statement more polite than it actually is without the use of any of the above elements.
Suggesting Solutions
It's an organic next step to suggest solutions upon expressing one's disagreement in the nicest way possible. It is a great practice in business emails as well as in day-to-day conversations. The phrases below can be used to suggest appropriate solutions right after the disagreement -
I think we should…
An alternative solution might be…
My suggestion would be to…
If you ask me, I think we should…
What do you think about _______ instead?
How about…
I would recommend _______ instead.