Determiners & Quantifiers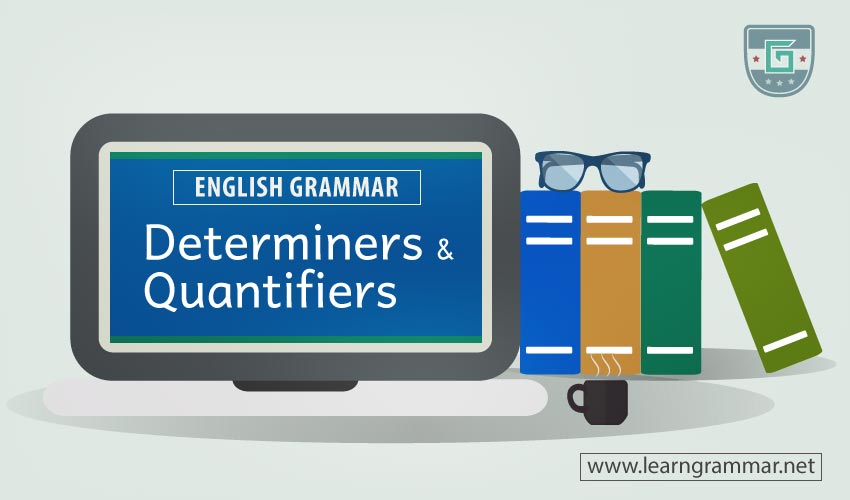 Determiners
Determiners modify nouns by setting a limitation over the nouns to indicate how specific or general they are. A determiner usually appears at the beginning of the noun phrases and works as an adjective to modify the nouns. However, determiners are not necessary for every noun phrase.
Determiners include:
a. The definite article: the
Example:
Give me the book I read to you yesterday. (Specific book)
I want the pencil you borrowed yesterday.
b. The indefinite articles: a, an
Example:
Give me a book from the shelf. (A general/random book from a specific shelf)
I want an apple.
c. The possessives: my, your, his, her, our, their, its, whose
Example:
My car is parked outside. (Specific car)
His house is near the bridge.
d. The demonstratives: this, that, these, those
Example:
This is my book.
That house belongs to me.
Those ducks are beautiful.
e. Interrogatives: which, what
Example:
Which car do you want to buy?
What product do you use?
Determiners and Quantifiers Exercise
Quantifiers
Quantifiers are also determiners which modify a noun to indicate its quantity. The quantifiers are any, all, many, much, most, some, a few, and a lot of, a little, a large amount of, none, and the cardinal numbers [one, two, three, four], etc.
Example:
I have some money but not a lot of it.
Many people died in that calamity.
Note: There are some rules for using determiners and quantifiers. Some of them can be used only with countable nouns and some of them with uncountable nouns while others can be used with either of them. Here is a chart for the determiners to be used with countable or uncountable nouns.
With Countable Nouns
With Uncountable Nouns
a/an, the
this, that, these, those
none, one, two, three,. . . . . .
many
a (great/large) number of
a few
few
fewer . . . . than
a lot of
some
any
the
this, that
none
much (in negatives or questions)
a large amount of
a little
little
less . . . . than
a lot of
some
any

Examples: